The GE-315 Series Paddle Water Flow Switch is a new design, adopt micro switch 5A 250V max, stability structure, long life time, no rust and bad contact, and the Protection Grade up to IP65, it could be applied in corrosive air environment. CE certificate for the flow switch, UL certificate for micro switch.
It is similar as Sika VHS & Honsberg UM3K UR3K CM2K series flow switch, but much lower price.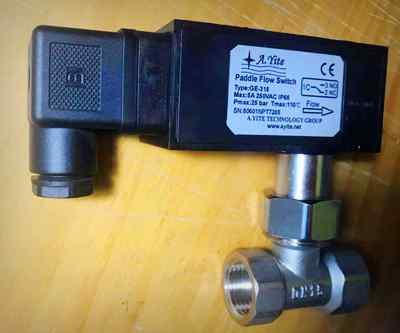 Character:
* Good Repeatability
* Low Pressure Loss
* Dirt Resistant
* Hermetic Separation of Electrical and Hydraulic Component
* Easy Adjustment of Switch
Specification:
* Electricity: 250V max, 5A max
* Output: SPDT Micro Switch
* Tolerance -/+15% of full scal
* Media Temperature -30~110 C
* Average Pressure Loss 0.01bar at Qmax.
* Metering Substances Oil, Water, Gas, Air
* Max Pressure 25bar (40bar could be custom-made)
* Protection Grade IP65
* Materials: Stainless Steel or Brass
* Pipe Connection: BSP or NPT , Male or Female thread.
* Wire Connection: hirschman DIN or Cable with sealing
GE-315 Inline Type:
Model

Pipe Size

Adjustable Range for Flow Action Setpoint (L/min)

1st Range

2nd Range

3rd Range

4th Range

5th Range

GE-315-G3/8"

DN10

1.4~2.0

2.0~2.6

2.4~3.2

2.7~3.6

3.7~5.0

GE-315-G1/2"

DN15

3.3~4.4

4.4~5.9

5.3~7.2

6.0~8.1

8.4~11.3

GE-315-G3/4"

DN20

5.8~7.8

7.8~10.6

9.4~12.8

10.6~14.4

14.9~20.1

GE-315-G1"

DN25

9.1~12.3

12.2~16.5

14.7~19.9

16.6~22.5

23.2~31.4

GE-315-G5/4"

DN32

14.8~20.1

20.0~27.1

24.1~32.7

27.3~36.9

38.1~51.5

GE-315-G3/2"

DN40

23.2~31.4

31.3~42.3

37.7~51.0

42.6~57.6

59.5~80.5

GE-315-G2"

DN50

36.2~49.0

48.8~66.1

59.0~79.8

66.8~90.7

93.0~125.8
* NPT or other thread is available
* The adjustable range is for flow setpoint, not for max flow rate.
* The max T-fitting pipe size could be DN100, we could supply the adjustable paddle flow switch with T-fitting DN63(2+1/2") DN75(2+3/4") DN80(3") DN90(3+1/2") DN100(4")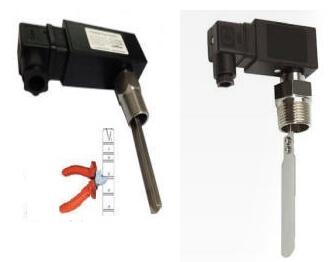 GE-315 Insert Type:

Connect Thread:

1. NPT1/2" male with 60mm vane
(GE-315N15)

2. BSP1/2" male with 60mm vane
(GE-315G15)

3. BSP3/4" male with 25mm-125mm Paddle
(GE-315-CM1K)

4. BSP1" male with 25mm-125mm Paddle
(GE-315-CM2K)

5. BSP3/4" female with 25mm-125mm Paddle
(GE-315-CF1K)


The products is similar as Honsberg series flow switch, it could replace the below type:

G1/2" DN15 UR3K-015GK065 UR3K-015GM065 UM3K-015GM070 UM3K-015GK070
G3/4" DN20 UR3K-020GK085 UR3K-020GM085 UM3K-020GK100 UM3K-020GM100
G1" DN25 UR3K-025GK150 UR3K-025GM150 UM3K-025GK180 UM3K-025GM180
G1+1/4" DN32 UR3K-032GK270 UR3K-032GM270 UM3K-032GK300 UM3K-032GM300
G1+1/2" DN40 UR3K-040GK440 UR3K-040GM440 UM3K-040GM500 UM3K-040GK500
G2" DN50 UR3K-050GK690 UR3K-050GM690 UM3K-050GM930 UM3K-050GK930

UM3K-015VM UM3K-015VK UM3K-025VM UM3K-025VK UR3K-015VM UR3K-015VK UR3K-025VM UR3K-025VK UM3K-050VM UM3K-050VK UR3K-050VM UR3K-050VK

SIKA: VHS08M VHS10M VHS15M VHS15MA VHS20M VHS25M VHS32M VHS40M VHS50M