GE-1207 well depth level meter is widely used in well tubewell or narrow hole or narrow pond, where the ultrasonic level could not work. This meter have a very good performance in the corrosive liquid. it could output 4-20mA or Switch signal, for remote control or monitor.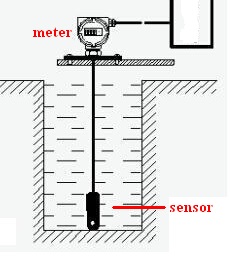 Character:
* widely used in the well and narrow pond
* Application of radio frequency admittance technology,
* Stable and reliable work, high anti-jamming.
* Able to measure the strong corrosive liquid.
* Free maintenance, prevent hanging, no regular cleaning or repeat calibration.
* Easy installation, thread, flange installation,
Technical Data:
* Measure Range 0…0.5…200m max
* Signal output: 4-20mA, or switch signal, customized is available
* Accuracy:≤+0.35%FSO
* working temperature -40…85°C
* medium temperature -20…60°C
* measurement principle: diffused silicon
How to choose model:
Well Level Meter

GE-1207T Teflon PTFE Type

GE-1207S 316L sensor with PE cable

GE-1207X 316L sensor with PTFE cable

Power Supply

12V

A-

24V

B-

220V

C-

Output

4-20mA

A

4-20mA + Screen dispaly

B

Measure Range

The depth

0-200m

Cable Length for sensor

Same as measure range in usual

0-200m