Flush Firm Diaphragm Pressure Transmitter is one special pressure transmitter, suitable for liquid pressure measuring with high viscosity and particulate, polyurethane, paper making, painting, pharmacy and other fields. The measuring port adopts the firm diaphragm with special treatment, not to make the flush diaphragm damaged by the hardness grit of the tested medium.
GE-202 Thread Type, 1/2: 1/4" 3/8" or others
GE-203 Clamp type, Sanitary Pressure Tansmitter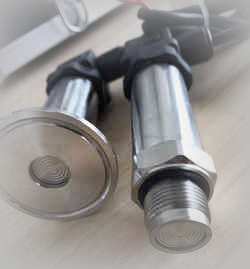 Specification:
* Ranges: 0~1bar to 0~700bar
* Pressure type: Gauge pressure, absolute pressure
* Accuracy: 0.25%FS, 0.5%FS
* Output: 4-20mA; 0-5V; 0.5-4.5V
* Over pressure: 150%FS
* Power supply: 24(12-36V)DC
Explosion Proof type is available, ExdIIBT4, ExdIIBT6, or ExdIICT6.