GE-209 Digital Electric Contact Pressure Gauge is a good replacement for mechanical pointer electric contact mamometer , it can display and control real time pressure at site . It adopts high performance steady electrocircuit board , import anti-shock pressure sensor and electric element
Character:
* Power Supply: 24VDC/220VAC
* Output: 1 or 2 relay for 1 or 2 setpoint
* 1 or 2 independently adjustable set points with fixed dead band.
* Ingress protection: IP66
* Dead band: narrow, fixed.
* Operating Temperature: -30~80℃
* Process connections: M20x1.5 G1/2" Male thread or others.
* Process fluid: water, gas, oil
* Range: -100kPa to 0 to 60Mpa
Explosion-proof Exd IICT 6 could be customized
PTFE Teflon sensor is available, could work for all kinds of corossive liquid.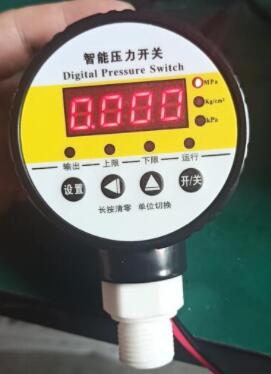 PTFE Pressure Switch