This GE-923 Air Differential Pressure transmitter is produced with magnetic sensing technology, pressure ranges from 0~-/+25Pa at up to 10000KPa. Available with Unidirectional and bidirectional pressure ranges, and air velocity, with LCD display screen.
ATEX Explosion Proof type is available
GE-923 differential pressure transmitter applies new CDM technology, can precisely monitor very low range differential pressure with multiple functions. It can compensate temperature effect, is not sensitive to medium and does not have any pressure drift. So is very reliable. The pressure vibration can be filtered by the damping function. The output is steady under very low range pressure and the sensor is not sensitive to dust and moisture. It could even be installed in the outside air environment between -20~70C
Features
* Minimum DP range to 25Pa and accuracy is 1%
* Range select could be easily set by button in field, do not need extra pump equipment
* Multiple applications, positive, negative or differential pressure
* Selectable double line four bit LCD Display
* High protection housing IP65
* DP with zero at center; or, Diff. Pressure, 0-FS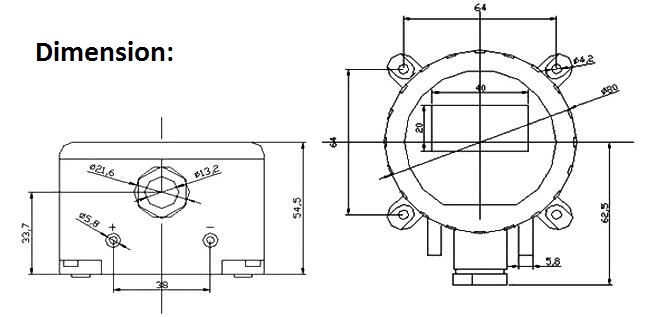 Technology Data:
1. Medium: Air and non-corrosive gas,

non-combustible gas
2. Pressure Range:: -25pa ~ 0 ~ +25pa (min.),
-100Kpa ~ 0 ~ +10000Kpa(max.)
3. Max Pressure: 5 x Max Range
4. Power Supply: 24V DC
5. Output: 4-20mA(2-wire), 0-5V(3-wire);0-10V(3-wire)
6. Protect Grade: IP65
7. Visual Display(optional): 2-line, 4-digit LCD
8. Working Temperature: -20C ~ 70C
It is applicable to: clean room, isolated room, ventilation system, energy management system, leak testing, air velocity measurement, medical care and test instrument, furnace pressure test, etc.